Local

Exposure
Located on the prestigious corner of Sunset Blvd. and Sunset Plaza Dr., The Oppenheim Group is the dominant brokerage in the Hollywood Hills and Sunset Strip, while doing tremendous business throughout Beverly Hills, West Hollywood, Bel Air, Malibu, and beyond.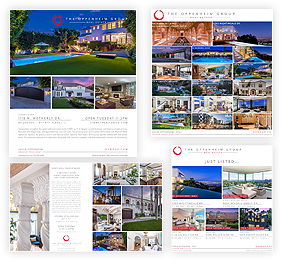 Print Advertising
The property will be advertised in the MLS magazine with a full-page color advertisement, designed professionally by our marketing team. Jason Oppenheim also receives the cover of the MLS magazine more than any other agent in Los Angeles, and will often get his client's listings on the front cover of the magazine.
Direct Emails List
A specific email introducing exclusively your home, including photos, description, property information and links to you home's private property webpage will be sent to more than 65,000 subscribed client contacts.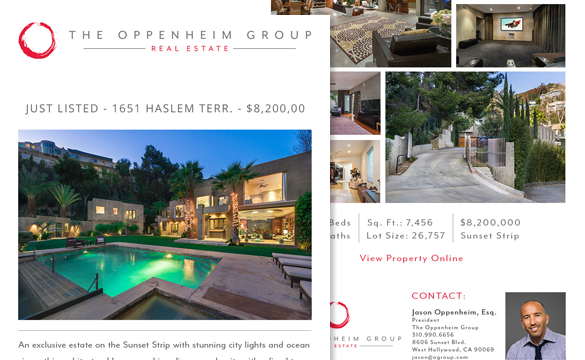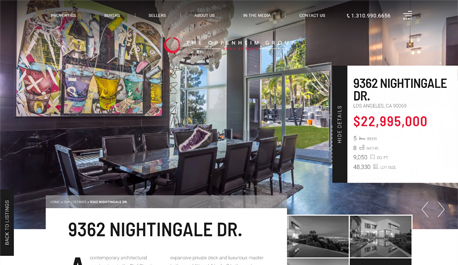 Property Website
We will create a designated landing page for your property on our brokerage website ogroup.com
Hollywood Hills Mailer
Numerous times a year, the Oppenheim Group mails a multi-page brochure to thousands of property owners throughout Los Angeles, advertising our current listings.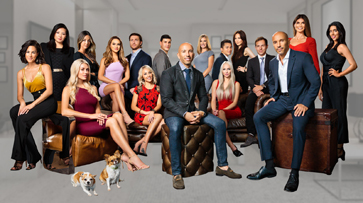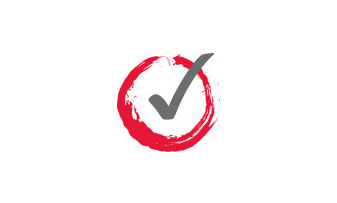 Personal Contacts
Jason will email more than 15,000 of his personal and business contacts, including many affluent community members, architects, designers, lawyers, doctors, talent agents, media, celebrities, athletes, business managers, developers, etc.
Youtube Channel
Our custom Youtube.com channel advertises our active listings, with a video of your home.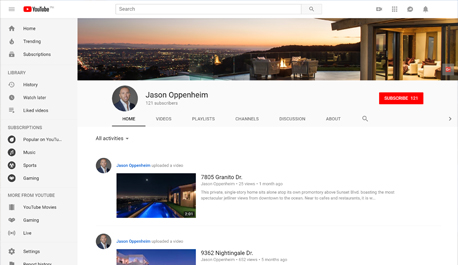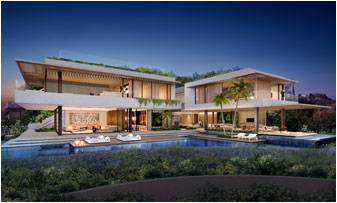 Professional Daytime and Twilight Photography
We commission the city's best photographers to take two separate photography sessions of your home, thus we are able to showcase your home's daytime natural lighting as well as twilight sunsets and exterior landscaping and front shots.
Aerial Drone Photography
We commission professional drone pilots using state-of-the-art drone camera technology to photograph the aerial exterior of your property, showcasing its location and proximity.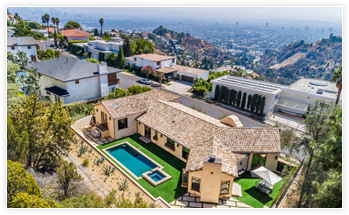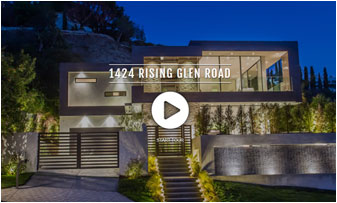 3D Virtual Tour
We work with Mantis 3D to create a three-dimensional virtual tour of your property using the latest technology, allowing agents and prospective buyers from around the world to virtually walk through your home using the directional arrows on their computer or smart device. We also create a top-down view for each level of the home, allowing the users a clear view of the property layout.
Magazine and Newspaper Print
When available, we will place your property along with other prestigious Oppenheim Group listings in magazines and newspapers including Luxe, Los Angeles Confidential, Angeleno, the Hollywood Reporter, Los Angeles Times, Wall Street Journal, and others.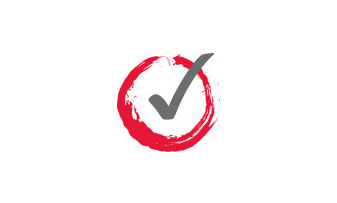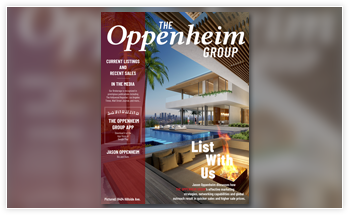 The Oppenheim Group Magazine
Your home will be conspicuously advertised as a featured listing in the Oppenheim Group magazine, printed and distributed to thousands of local clients within the community. The magazine is also available at our offices, dozens of open houses, broker opens, and events.
Marketing in New York and Miami
Jason will email more than 15,000 of his personal and business contacts, including many affluent community members, architects, designers, lawyers, doctors, talent agents, media, celebrities, athletes, business managers, developers, etc.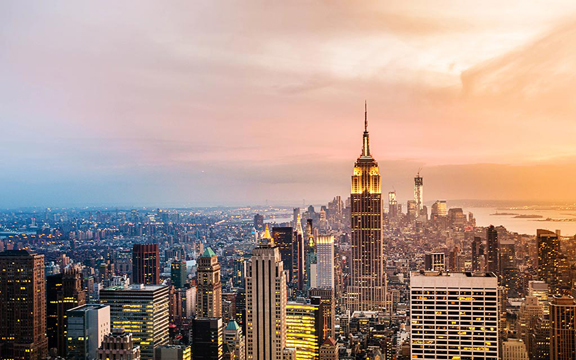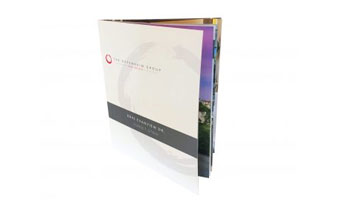 12-page Listing Book
We create a custom listing book for your home, allowing every prospective buyer and agent who visits the property to leave with an asset to share with their family and friends and to remind them of the beauty of your house, with both daytime and twilight photography, descriptions, floor plans, website domain link, and other listing information.
Coffee Table Book
Beautifully bound hard cover leather books are created for luxury listings. Our graphic designers weave together compelling photography, inspiring descriptions, and innovative layouts to produce a luxurious keepsake for all prospective buyers.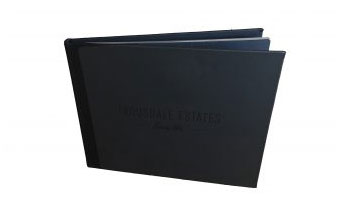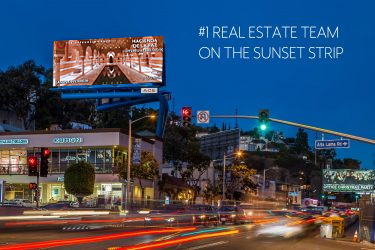 Billboard on Sunset Blvd.
Many of our prominent listings are featured on their own billboard on Sunset Blvd. at the center of the Sunset Strip, capturing hundreds of thousands of views. This is exclusive to the Oppenheim Group and no other brokerage in the world is able to offer such an expensive and exclusive opportunity to their clients.
Featured Listing
Your property will be a prominent Featured Listing on the Oppenheim Group website, www.ogroup.com, which is heavily advertised in both print and media outlets, and receives many thousands of visitors per month.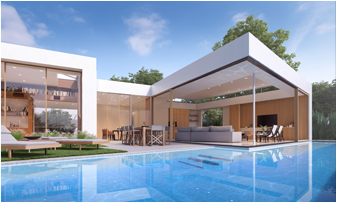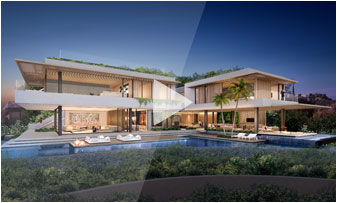 Lifestyle Video
For our premier listings, we work with the leading videographers specializing in real estate creative production to capture the magical lifestyle enabled by living at your property using sight, sound and motion. With today's real estate market full of fast-paced, tech savvy buyers, marketing properties with a video is a must.
Tri-Fold Mailers
Custom tri-fold invitations will be mailed to area residents advertising the new listing and its first open house.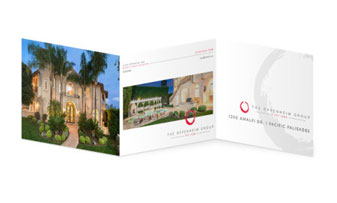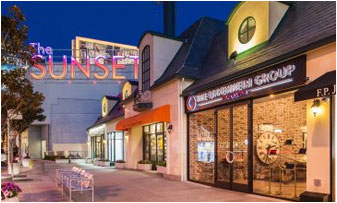 TVS and Ipads
The home will be conspicuously placed on a large screen TV and multiple media tablets at the prestigious corner of Sunset Blvd. and Sunset Plaza Dr., available for viewing to more than 14,000 drivers and hundreds of walking passer-byes every day.
Open Houses and Broker Opens
With the owner's permission, multiple open houses for the public will be held on Sundays, and an Open House for the entire brokerage community will be held on Tuesdays.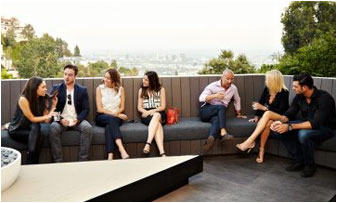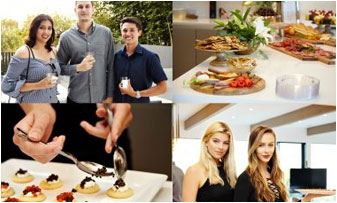 Twilight Events
We will host special Twilight Events for some of our properties, catered with exquisite food and drink, and boasting other Oppenheim Group amenities.
Signage
At each open house to the public and brokerage community, numerous custom designed open house signs with flags and printed red and white placards will be used conspicuously displaying the property address.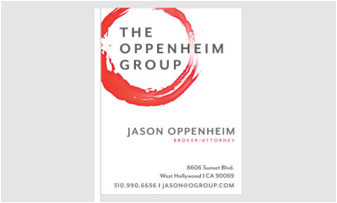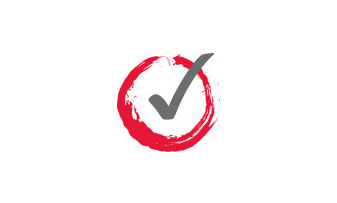 Office Meetings
The property will be presented to all Oppenheim Group associates during our office meetings.
Social Media
We post your home on numerous personal and business social media platforms to increase exposure to hundreds of thousand of friends and followers.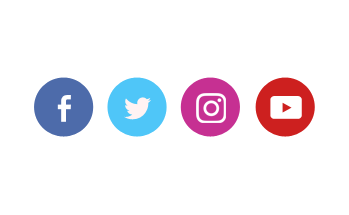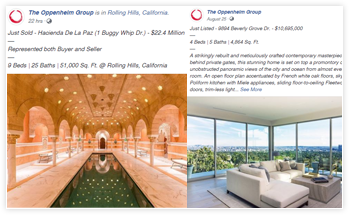 Social Media Promotion
We not only post your property on our social media platforms including Instagram and Facebook, we also pay to promote the posts during the first week of the listing so that they reach not only our followers but tens of thousand more.
Digital Marketing Campaigns
Your property photos and descriptions are also formatted into an array of digital formats to power custom digital marketing campaigns across search engines, email, social networks, display advertisement networks, website sponsorships and custom URL websites.