In The Media
The Oppenheim Group receives significant attention within the real estate community and beyond; the brokerage is the focus of the hit Netflix original series, Selling Sunset, as Jason and his elite agents sell luxury homes to their affluent and celebrity clients. With more than $400 million in active listings, the brokerage boasts some of the most impressive properties in Los Angeles, including the largest home in the Hollywood Hills and one of the largest listings in Los Angeles at $100 million.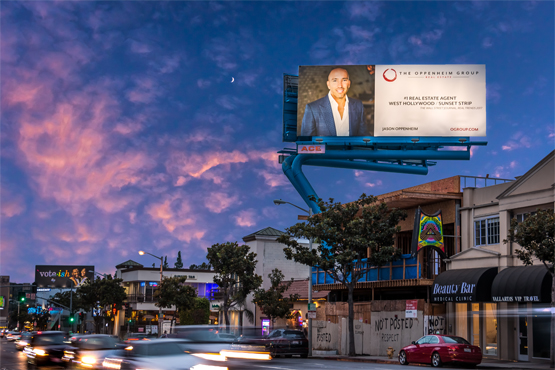 Philanthropy
The Oppenheim Group Charitable Foundation
The Oppenheim Group volunteers with FoodonFoot.org to feed and clothe the homeless and working p ...
Los Angeles Times
Subterranean mansion carves out top spot in L.A. County's priciest deals of October
Jason's recent sale of Hacienda de la Paz (representing both buyer and seller) tops L.A. County's mo ...
Los Angeles Times
Snazzy $75-million showplace is the new kid on the block in Beverly Hills
Jason Oppenheim and Davina Potratz's new off-market listing is featured in the LA times.
Los Angeles Times
Tinder co-founder Sean Rad puts Hollywood Hills home back in play at $9.75 million
Jason Oppenheim and Mary Fitzgerald's new Bird Streets listing is chosen as LA Times' new Hot Proper ...
Los Angeles Times
Alex Rodriguez sells Honnold & Rex research house in the Hollywood Hills
Jason Oppenheim sells the home of Alex Rodriguez and Jennifer Lopez.
Los Angeles Times
Home of the Week: Hollywood Hills showplace makes a splash
Jason's listing at 8408 Hillside Ave. is featured as the Los Angeles Times' Home of the Week.
The Real Deal
To sell a $45M home, this broker just commissioned a billboard on Sunset Strip
While the property was heavily featured throughout The Oppenheim Groups's Netflix series, "Selli ...
Los Angeles Times
'NCIS' creator Donald P. Bellisario parts ways with longtime Studio City home
Legendary television writer-producer Donald P. Bellisario has wrapped up a finale of sorts in Studio ...
Curbed LA
LA's Bird Streets neighborhood now has a Hummingbird Place
Jason changes street name to help sell a home.
The Real Deal
Kris Humphries sells Beverly Hills estate for $8.3M
Jason represents Kris Humphries in the sale of his $8.2 million dollar home in Beverly Hills. ...
Load More +