In The Media
Jason receives significant attention within the real estate community and beyond; as a selling agent on Bravo's Million Dollar Listing, host of ABC's Beautiful Homes & Great Estates, a listing agent on HGTV's Selling L.A, identified as a Top 25 Agent in Los Angeles by The Hollywood Reporter, often featured in prestigious magazines including, Los Angeles Confidential, Angeleno, Beverly Hills Lifestyle, and on the front page of the Daily Journal.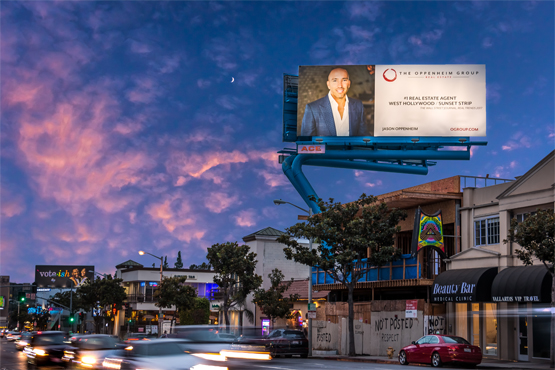 The Real Deal
Actor Orlando Bloom snags Beverly Hills pad for $7M
Jason Oppenheim represents Orlando Bloom in the purchase of his $7 million Beverly Hills home. ...
The Real Deal
Kris Humphries sells Beverly Hills estate for $8.3M
Jason represents Kris Humphries in the sale of his $8.2 million dollar home in Beverly Hills. ...
Celebrity Real Estate
Nicole Scherzinger buys in Hollywood Hills from Jason Oppenheim.
Celebrity Real Estate
Jason's client Erin Foster has her home featured in Vanity Fair.
Celebrity Real Estate
Ellen DeGeneres Just Bought The Best House In Los Angeles For $40 Million!
Damn, the renovated Brody House didn't even get the chance to hit the market before it w ...
Celebrity Real Estate
Meryl Streep Buys Honnold & Rex Research House in the Hills
Meryl Streep is generally an East Coaster, but the ever-wonderful Real Estalker hears she's pi ...
Celebrity Real Estate
Workaholics Star Blake Anderson Buys Rob Dyrdek's Hollywood Hills Home
Both known for their ridiculous stunts and gut-wrenching humor, Blake Anderson and Rob Dyrdek ...
Celebrity Real Estate
TOM BRADY AND GISELE'S SOCAL PALACE
It's been well over a year since Patriots' star quarterback Tom Brady and his equally-famous ...
Celebrity Real Estate
Ferris Beuller Home Back on Market
This home's moment on film was brief but rather dramatic. In "Ferris Bueller's Day Off," ...
Celebrity Real Estate
Metal Rob Zombie Hancock Park House on Sell
There is nothing creepy or gory about Rob Zombie's Hancock Park House, which is now on sell, e ...
Load More +