In The Media
The Oppenheim Group receives significant attention within the real estate community and beyond; the brokerage is the focus of the hit Netflix original series, Selling Sunset, as Jason and his elite agents sell luxury homes to their affluent and celebrity clients. With more than $400 million in active listings, the brokerage boasts some of the most impressive properties in Los Angeles, including the largest home in the Hollywood Hills and one of the largest listings in Los Angeles at $100 million.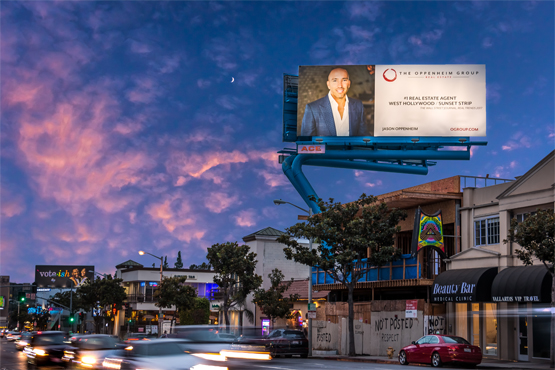 Press
The Hollywood Reporter
The Hollywood Reporter quotes Jason on the value of a view. Read more
Press
The Real Deal Magazine
Jason lists the most unique development opportunity ever in the Beverly Hills Triangle. Read ...
Press
The Hollywood Reporter
The Hollywood Reporter selects Jason and Brett as Hollywood's Top Real Estate Agents. Read mo ...
Brett helps 'Real Housewives' alum Yolanda Foster check out of Westwood with a sale at the C ...
'Suicide Squad' star Joel Kinnaman wraps up a home sale in Hollywood Hills West with Jason. ...
Sammy Davis Jr.'s former house, redeveloped by Jason Oppenheim, lists for $8M Read more
Supermodel and philanthropist Petra Němcová has sold her apartment in Tribeca. Read more
Press
On sunset strip billboard
As the #1 team on the Sunset Strip, The Oppenheim Group advertises on a Sunset Boulevard billboa ...
Brett Oppenheim quietly sold Chris McGurk Beverly Hills home.
Load More +