In The Media
Jason receives significant attention within the real estate community and beyond; as a selling agent on Bravo's Million Dollar Listing, host of ABC's Beautiful Homes & Great Estates, a listing agent on HGTV's Selling L.A, identified as a Top 25 Agent in Los Angeles by The Hollywood Reporter, often featured in prestigious magazines including, Los Angeles Confidential, Angeleno, Beverly Hills Lifestyle, and on the front page of the Daily Journal.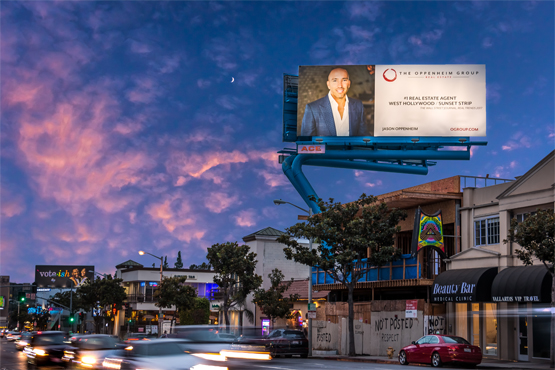 Press
The Hollywood Reporter
The Hollywood Reporter quotes Jason on the value of a view. Read more
Press
The Real Deal Magazine
Jason lists the most unique development opportunity ever in the Beverly Hills Triangle. Read ...
Press
The Hollywood Reporter
The Hollywood Reporter selects Jason and Brett as Hollywood's Top Real Estate Agents. Read mo ...
Brett helps 'Real Housewives' alum Yolanda Foster check out of Westwood with a sale at the C ...
'Suicide Squad' star Joel Kinnaman wraps up a home sale in Hollywood Hills West with Jason. ...
Sammy Davis Jr.'s former house, redeveloped by Jason Oppenheim, lists for $8M Read more
Supermodel and philanthropist Petra Němcová has sold her apartment in Tribeca. Read more
Press
On sunset strip billboard
As the #1 team on the Sunset Strip, The Oppenheim Group advertises on a Sunset Boulevard billboa ...
Brett Oppenheim quietly sold Chris McGurk Beverly Hills home.
Load More +