In The Media
The Oppenheim Group receives significant attention within the real estate community and beyond; the brokerage is the focus of the hit Netflix original series, Selling Sunset, as Jason and his elite agents sell luxury homes to their affluent and celebrity clients. With more than $400 million in active listings, the brokerage boasts some of the most impressive properties in Los Angeles, including the largest home in the Hollywood Hills and one of the largest listings in Los Angeles at $100 million.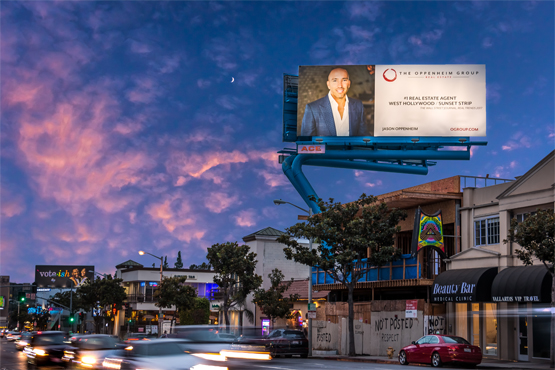 The Real Deal
LA resi brokers predict "pent up demand" post-coronavirus
Jason Oppenheim speaks on an online panel hosted by The Real Deal with LA's top brokers.
The Real Deal
To sell a $45M home, this broker just commissioned a billboard on Sunset Strip
While the property was heavily featured throughout The Oppenheim Groups's Netflix series, "Selli ...
Celebrity Real Estate
Kris Humphries sells Beverly Hills estate for $8.3M
Jason represents Kris Humphries in the sale of his $8.2 million dollar home in Beverly Hills. ...
Celebrity Real Estate
Actor Orlando Bloom snags Beverly Hills pad for $7M
Jason Oppenheim represents Orlando Bloom in the purchase of his $7 million Beverly Hills home. ...
Press
What Will Happen to the Playboy Mansion now that Hugh Hefner is dead?
Jason gives his comments on the future of the Playboy Mansion.
The Real Deal
Reunion.com founder seeks buyer for $7.5M Bel Air estate
Jeffrey Tinsley, founder of social networking site Reunion.com listed his home in Bel Air with J ...
Press
Longtime retail leasing exec lists $6M home near Sunset Strip
The former Westfield Group and Taubman Company executive, David Weinert put his St. Ives Drive h ...
The Real Deal
Marketing exec pocket lists Trousdale estate for $13.5M
Douglas Fregolle puts Bali-inspired Beverly Hills pad on market with Jason Oppenheim. ...
Celebrity Real Estate
Jason Oppenheim on finding Chloe Moretz an LA home
Jason is featured in the Real Deal magazine for find her new home to actress Chloe Moretz.
Load More +